Fall athletics at Carlisle School run from August to November and include Boys Soccer, Cross Country, Girls Tennis, Bass Fishing, and Volleyball. Read on to learn about each team, their coaches, and sponsorship opportunities. 
---
Boys Soccer
The Carlisle Chiefs Boys Soccer team has won 5 VIC titles and 1 State Championship. The Varsity team is open to students in grades 8-12, and the middle school team for students in grades 6-8. All practices and games are held at the Smith River Sports Complex.
Varsity Coach: Rick Dalton
MS Coach: Matt Taylor
View team stats, schedule, and ranking.
---
Cross Country
Carlisle Chiefs Cross Country competes in the BRAC conferences. The team is comprised of runners in grades 6th – 12th.  Practices and meets are held on campus and at the Smith River Sports Complex.
Coach: Amber Heath
View team stats, schedule, and ranking.
---
Bass Fishing
The Carlisle School BASS Fishing Team allows interested students to learn fishing skills and introduces students to the sport of competitive bass fishing. The team had 3 teams place in the top 25 during their first tournament of the 2023-2024 season.
Practices and tournaments are held at public lakes across the state of Virginia, including Philpott Lake, Buggs Island Lake, and Lake Gaston. The team is open to students in grades 6th-12th. 
Coach: Jackie Gammons 


---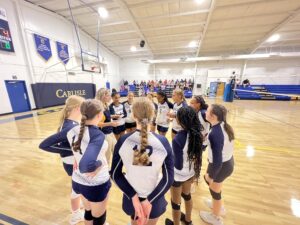 The Carlisle Chiefs volleyball team consists of middle and junior varsity teams. The volleyball program is growing at Carlisle as the team made the state tournament for the first time in 2018. Practices and games are held on campus in the Roy Building Gym.
Varsity Coach: Juliana Carter
MS Coach: Alyson Gammons
View team stats, schedule, and ranking.
---

Homecoming In the fall of each year, we celebrate Carlisle traditions and our fall athletics with a Homecoming Pep Rally. Here is a look at the school spirit exhibited by our students in 2023! 
---
Sponsorship opportunities are available to support fall athletics and individual teams. Please contact the Development Office at 276-632-7288, ext. 231 for information on website advertising, banner placements, and scoreboard signs.